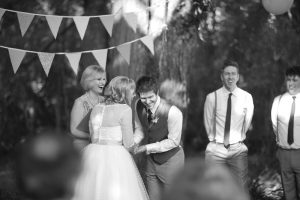 Congratulations on your engagement! I would love to be your marriage celebrant and work with you to design a meaningful, unique wedding ceremony that reflects your relationship, personalities, values and love for one another.
When planning a wedding ceremony, I always start by spending time with the couple, getting to know them and listening to their stories. As a marriage celebrant, my role is to guide you through the planning of your ceremony and ensure your special day is relaxed, fun and memorable.
Your wedding ceremony can be as formal, informal, traditional, simple or adventurous as you choose. This is your day and I'm here to create a ceremony that's just right for you.
"Desiree was our celebrant for our wedding at The Officers Mess in January 2015. We met with a few celebrants however we both instantly connected with Desiree, her calm demeanour and her genuine interest in us as a couple and how she can make our special day truly represent us. She helped us so much with our ceremony making it very personal allowing us to tell our story to our guests. She was so patient with us and it felt as though she truly enjoyed our ceremony as much as us. She was also fantastic at calming our nerves and working with our DJ and MC, meaning we had every faith that the ceremony would go off without a hitch. It was a magical day for us, totally perfect and we have Desiree to thank for this. We hope to stay in touch with her, as we now consider her a friend too." – Liz and Chris
The process
Initially, we will meet to discuss your plans, thoughts and desires for your wedding. This initial meeting is free of charge, with no obligation. It is a chance for you to get to know me and decide whether I am the right marriage celebrant for you, as it's important that you feel comfortable with the celebrant who will be conducting your wedding ceremony. During the initial meeting, I will provide you with resources that will help with the planning of your ceremony. I will also explain the legal requirements involved in a wedding ceremony.
If you decide that you'd like me to be your marriage celebrant, I will send you a questionnaire, which I suggest you each complete separately. The questionnaire asks a number of thought-provoking questions, such as why you're getting married, what marriage means to you, what you love and value about each other and what makes your relationship unique. This helps me build a picture of your relationship and enables me to tell your story in your own words.
Our second meeting will last around one hour. During this meeting, we will brainstorm ideas and work together to plan the details of your wedding ceremony. After this meeting, you will be ready to write your vows (with my support and guidance) and select any readings, poems, music or rituals that you would like to include in the ceremony. Your love, values, hopes, dreams and the story of your relationship will be used to create a wedding ceremony that is completely personalised.
After this meeting, I will write a draft of your ceremony and then email this to you for approval. I will spend as much time as necessary to ensure that your ceremony is exactly how you would like it. Sometimes, we might schedule another meeting to chat about any minor variations.
Your rehearsal will usually take place at the wedding venue around one week before the wedding. This is a good opportunity to ask any last-minute questions and confirm all the details. If you will be walking down the aisle to music during the ceremony, the rehearsal will allow you to practice this and get the timing right. A rehearsal helps everyone involved feel confident and relaxed about their role in the wedding ceremony.
On your wedding day, I will arrive at least half an hour before the guests to make sure everything is in order. I will liaise with other parties involved in the ceremony, such as the photographer and venue staff, and meet the bridal party on their arrival.
After your wedding, I will post a copy of your licence to the Registrar of Births, Deaths and Marriages and send you a copy of the wedding ceremony as a keepsake.
"Right from the start Desiree was professional, accommodating, friendly, approachable, flexible and prompt. When we had no idea where to start she guided us step by step never missing a detail, and her approach to writing the ceremony was a very special and thoughtful process. Neither myself or my husband felt confident standing up and talking in front of a crowd, but Desiree made us feel comfortable and confident. Getting our vows right was one of our biggest worries, but Desiree read them in a way that was easy to repeat without a hitch. Some guests even thought we had memorised our vows and read them from memory. We received so many great compliments from guests about the ceremony with one in particular saying it was the best ceremony they had ever seen. After such a great wedding and positive experience, we couldn't recommend Desiree more highly to anyone." – Nikki and Bodie
Desiree Mason – Marriage Celebrant NZ
North Shore, Auckland
Landline: 09-446 6043
Mobile: 021 831 560
Email: desiree@desireemason.co.nz