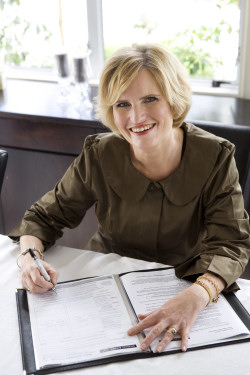 In our busy lives, ceremonies are more important than ever. Every day is precious, but there are a few important days in life that should be particularly memorable. The birth of a baby, the start of a marriage or the passing of a loved one are all momentous occasions that need to be acknowledged and celebrated.
I became a celebrant so that I could make a difference in people's lives. Being able to deliver a ceremony in a meaningful, caring and compassionate way is incredibly special and I treasure the many friendships I have developed with clients during my time as a celebrant.
There is nothing I enjoy more than getting to know my clients, listening to their stories and taking the time to design a personalised, memorable ceremony that reflects the couple or person we are celebrating.
I don't have a selection of standard ceremonies for my clients to choose from. Every ceremony I create is completely unique and crafted for you.
"Desiree was the perfect celebrant for us. She was natural but professional and her experience really showed through. We had the opportunity to have several meetings leading up to the wedding to get the day just right. She once told us she feels she's done a wedding well when she's made people both laugh and cry (happy tears) and that was definitely the case for us. Absolutely perfect day couldn't have gone more smoothly." – Rebecca & Byron
About me
I am warm, relaxed and have an innate ability to bond with people.
My clients say that my calm manner instantly puts them at ease and my attention to detail allows them to relax and simply enjoy the ceremony.
I have a clear voice, a great sense of humour and I am a confident, experienced public speaker.
I'm based in Auckland, but I've conducted ceremonies throughout New Zealand. If you live outside Auckland or are based overseas, that's not a problem.
"Thank you for the thought and effort that you put into making our day so special. You remained calm and controlled throughout. You thought of every detail, right down to rose petals for the grandchildren to throw. We believe if our wedding was anything to go by, you will be a wonderful celebrant for many weddings to come." – Tricia and Gerald
My background
In 1979, I married my husband Phil and together we have three wonderful children. I couldn't imagine my life without them. They are all very different but share such a strong, loving bond. Phil and I feel incredibly lucky to have such a fantastic family.
I grew up on the North Shore in Auckland and have strong ties to the local community, having been actively involved in numerous community organisations as President of Takarunga Playcentre, Convenor and Committee Member of North Shore United Junior Soccer Club and Chairperson of the Takapuna Grammar School PTA.
In my role as the practice manager of a legal office in Takapuna, I oversee the day-to-day running of the firm. With more than 30 years of experience working in legal offices in New Zealand and Australia, I am mindful of the legal obligations and responsibilities of a celebrant.
I completed a Certificate in Celebrant Studies in 2010 and I am a member of the Celebrants Association of New Zealand.
"Our 'surprise' wedding was such a fabulous night and the ceremony that you put together for us was everything we could have asked for and more! We loved every minute." – Justine and Kelcey
"Thank you so much for being such a wonderful celebrant and making our ceremony so special and treasured. We will be sure to recommend you to anyone we know planning a wedding. We had a truly amazing day and felt very lucky that we were able to finally pull it off in 2020…and in such stunning weather." – Alexandra & Tiago
Desiree Mason, Auckland Celebrant
Landline: 09-446 6043
Mobile: 021 831 560
Email: desiree@desireemason.co.nz