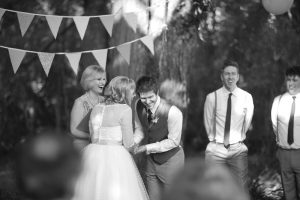 Desiree will work with you to design a ceremony that reflects your relationship, values and love for one another. She will spend time getting to know you and listening to your stories. Her role is to guide you through the planning of your ceremony and ensure your special day is relaxed, fun and memorable.
Your wedding ceremony can be as formal, informal, traditional, simple or adventurous as you choose. This is your wedding day and Desiree's desire is to create a ceremony that reflects your personalities as individuals and as a couple.
The process
Initially you will meet with Desiree to discuss your plans, thoughts and desires for your big day. This initial meeting is free, with no obligation, and is simply for you to get to know Desiree and establish whether she is the right celebrant for you. It is important that you trust and feel comfortable with the celebrant who will be performing your wedding ceremony. Desiree will provide you with resources that will help with the planning of your ceremony. She will also explain the legal requirements.
The second meeting will last approximately an hour. Firstly you will work together to plan the details of your ceremony. With Desiree's assistance, you will brainstorm ideas, write your vows and put together any readings, poems, music or rituals that you would like to include in your ceremony. Your love and values, along with your hopes and dreams, will be combined with the story of your relationship to provide a ceremony that is truly yours.
After this meeting Desiree will spend time writing a draft of your ceremony, which she will then email to you for approval. Desiree will take as much time as necessary to ensure your ceremony is exactly how you would like it to be. Another meeting can be scheduled to provide for any minor variations that may be required.
Your rehearsal will take place at the wedding venue, usually a week before the wedding. This is an opportunity to ask Desiree any last-minute questions and confirm all the details. The rehearsal helps everyone involved feel confident and relaxed about their role in the ceremony.
On your wedding day, Desiree will arrive at least half an hour before the guests to ensure that everything is in order. She will liaise with the other parties involved in the ceremony, greet the guests and meet the bridal party on their arrival.
After your wedding, Desiree will mail one copy of your licence to the Registrar of Births, Deaths and Marriages and send you a copy of the ceremony as a keepsake.