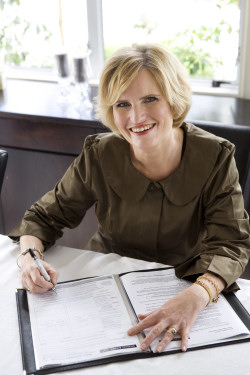 Desiree is a warm, relaxed and professional celebrant. She loves getting to know her clients and creating a personalised, memorable ceremony.
Desiree holds a Certificate in Celebrant Studies and is a member of the Celebrants Association of New Zealand.
Desiree has worked with clients from a wide variety of cultures, backgrounds and traditions. She truly enjoys listening to your stories and taking the time to design a ceremony that reflects your relationship, values and love for one another. Desiree is a confident, experienced public speaker. She has a clear voice and a great sense of humour. Her calm manner and attention to detail puts her clients at ease.
Desiree grew up on the North Shore. She married her husband Phil in 1979 and together they have three wonderful children. Desiree is a passionate supporter of her local community. She has been actively involved with numerous community organisations, including Takarunga Playcentre (President), North Shore United Junior Soccer Club (Convenor and Committee Member) and Takapuna Grammar School PTA (Chairperson).
In her role as Practice Manager for a legal firm in Takapuna, Desiree manages the financial, HR and property portfolios, together with overseeing the general running of the firm. Desiree's HR experience has provided her with strong interpersonal skills and an open mind. With over 30 years experience working in legal offices both in New Zealand and Australia, Desiree is mindful of the legal obligations and responsibilities of a celebrant.
Desiree would be honoured to be your celebrant. She would love to chat with you about your ceremony and answer any questions you may have.